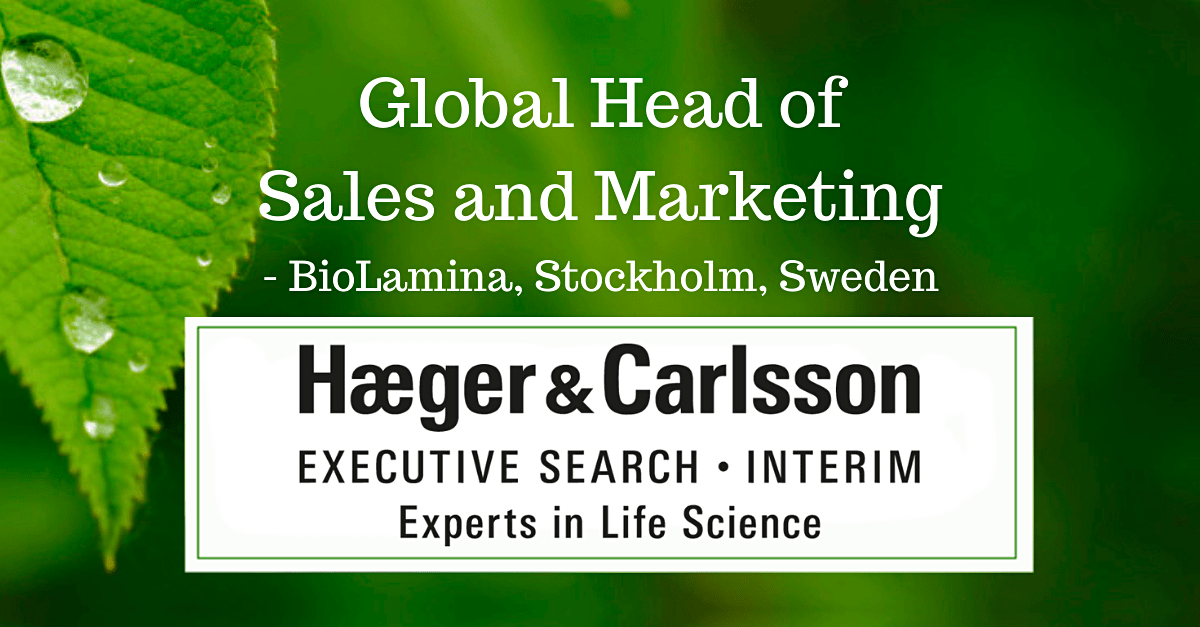 We are now recruiting a Global Head of Sales and Marketing to BioLamina, an expanding Swedish biotechnology company with a global presence.
The right candidate is a highly skilled sales and marketing person with international experience that will ensure that the company's revenue growth targets are met or exceeded. As part of the management group, you will build and lead an effective team and leverage all necessary resources to accelerate BioLamina's commercialization of its product offering. The position is based at the headquarters in Sundbyberg, Stockholm, where production, R&D, logistics, sales, and marketing are all under the same roof.
BioLamina offers a unique portfolio within the fast-growing stem cell and cell therapy markets and the products are well recognized by the international stem cell community. BioLamina's vision is to become the leading global provider of cell culture solutions to enable lifesaving therapies.
Responsibilities
Lead, develop and manage the Sales and Marketing team, including US Sales operations.
Work closely with our most important key accounts to strengthen strategic customer relationships.
Be an internal role model leading the way in the commercialization of our current and coming market offerings.
Develop a relevant KPI structure and reporting framework.
Support and lead the Sales team to reach annual sales target.
Develop a Sales Channel Strategy.
Monitor key sales success factors, the sales pipeline, CRM processes and market & competitor intelligence.
Initiate and maintain the key account management strategy.
Continuously identify growth areas and manage a healthy pipeline.
Lead the development of clear value propositions and supporting marketing tools.
Lead marketing communication activities.
Ensure strategic alignment across functions and seamless commercialization.
Qualifications & Skills
MSc or PhD degree in a Life Science discipline.
At least five years' experience and results proven in a similar sales and marketing role, preferably in selling to academic, biotechnology, or pharmaceutical researchers and organizations.
Strong and proven leadership skills, preferably with an entrepreneurial mindset.
Familiar with the pluripotent stem cell and/or cell therapy market with a wide network in this field.
Demonstrated technical, negotiation and selling skills.
Commercially driven and result oriented.
Proficient use of CRM software and ideally experience from implementing a CRM system.
Experience of building structural capital within marketing and sales.
International experience.
For more information please contact:
Anna Emterling +46(0)76-313 0137, anna.e@haegercarlsson.com
Rolf Carlsson +46(0)70-316 1268, rolf@haegercarlsson.com
Welcome to apply via www.haegercarlsson.com
Känner du några som skulle passa ännu bättre? Berätta det för dem.